Doogie is heading of to Athens for a solo show at Texas Necropolis (ex-Underworld Club) on Friday 5 December. He will be performing songs from his time in Rainbow, Cornerstone and Empire as well as a couple of favourites from Maiden and Purple.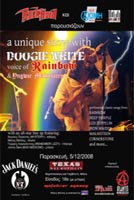 Click above image to view larger version
"I am really excited to be doing this show. I have never been to Greece before but have many "friends" there. I wanted to keep it exclusivley to material that I had written or contributed to but the promoter asked if I would do some covers. So I picked a couple that I hope that the metalheads in Athens will want to hear me sing."
Immediately on his return from Greece, Doogie flies to Frankfurt to record vocals from the English language version of the brand new album from Rata Blanca, the multi million selling Argentine band lead by guitarist Walter Giardino. "Walter and I have known each other for years and he is truely an inspirational guitarist. We have been trying to find some musical adventure to do together and this popped up. So I will be in Germany for the first time in a long time to record."
There will also be a Q&A with Doogie to be posted on his soon to be revamped website early in 2009. So if anyone has any questions for Doogie concerning his career please make contact through the address on his website.
Before heading off to Greece Doogie has 2 shows with Demon's Eye in Belgium and Germany.
In the meantime he continues to work on his solo album "As Yet Untitled".
Site content © Doogie White 2009.